Warning: Tons of food photos below, don't scroll if you're feeling hungry at the moment!
Had family dinner at Marriott Cafe on saturday (7 april)! I think this is the most expensive buffet I've ever eaten, or maybe CNY reunion dinner at Todai is more expensive, not very sure about this!
Anyway, since its a buffet, no human photos (next post might have human photos)! Was gorging my heart out on the food haha! Good enough that I took photos of food already! I didn't take photo of all the food because about 30% of the stuffs are covered up, and I cannot be taking photo of every single plate of food I ate right!
Atas ceiling!! LOL
This is selling right beside the buffet place, look awesome! We bought quite a few cakes before going for the buffet LOL, and collected them after our meal..
Going in!!!
We didn't make any reservations thanks to my sister (partially lol -.-), so got to sit at the bar counter seats for our buffet at first!! #whatanewexperience
Luckily halfway through, we finally got a proper table! Don't know why table decoration need so many glasses lol.
A few random photos as we waited for the staff to be done with the food preparation~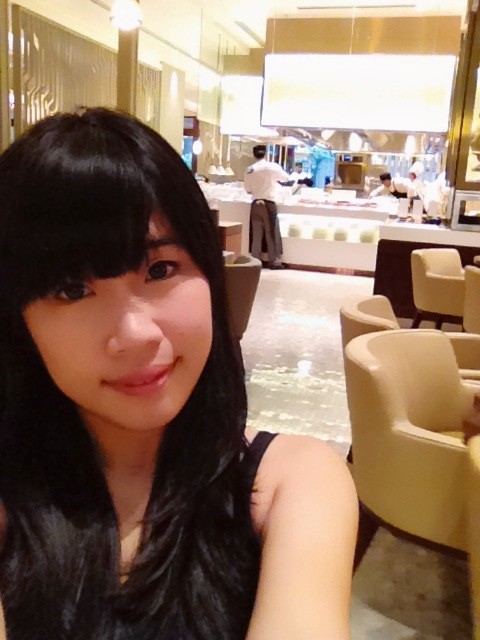 WOOHOO START! Here are the photos of the buffet arrangement!
Cold seafood!
The mad big salad bar!
Sushi and sashimi! (opps I took this photo when the food is running low)
Cheese cellar! (First time seeing this in Singapore lol!)
Bread and bread and bread!
This is some roasting place, seems like a mini kenny roger's to me! Have meat as well as those similar to kenny roger's side dishes!
I think these are ham? Or sashimi again?
Dessert section!
Woots look at the cakes! :)
And they serve more expensive fruits here! We even had rockmelon after this photo!!! (feels like japan now~)
Ice cream toppings! So cute!! And is really can use one, not for show only!
Now, some of the food I took...
Seeeeeee, the hard shelled prawn is like as big as the big drumstick!!!
Squid ink stuff, big prawn again, normal prawn, some ham croquette (the fried ball), potato omeletter, salmon, baked and creamy potato thingy, etc.
Roasted meat and apple pie and cereal prawn!
Special dish of the day, some champagne glazed grilled prawn thing! Yums :)
Pumpkin cream soup and old melon soup!
Dessert! I suck at cutting cake so you can see the weird lump of light brown stuffs there..
That's the end of the photos!
Overall the food is not bad! They have a great variety, still got quite some stuffs that I don't eat not featured in the photos.. There was 2 cook-on-the-spot sections - ramen and champagne glazed prawns! Super many kinds of prawns hahahaha, me happy!!! The environment was good too, it wasn't like those usual buffet where everybody crowd around and queue up to snatch the seafood, more cultured over there I guess.
Bad thing is..There is no pasta that day. I want spaghetti!!! :( Only got the weird mess of squid ink stuff. Also, they only provide water, got to top up $8++ per person for free flow of juices.. Lastly, super expensive!!! The final bill of a table of four is slightly above $300. But of course, you get what you pay..
Yup that's the end, and hope I don't grow too fat!