Here's my new nails, sponsored by Beauty Recipe! Super pretty right? Today, I'll be recommending you girls a great place to do your nails!
This is their shop front! They've just opened recently, located 5-7 minutes from jurong east mrt!
Look at the pink and white interior, super loves!
& They sell korean makeup and skincare from the popular brands too, but at a lower price than retail shops! Also, there's a TV there for customers to watch as they enjoy the services~ So thoughtful!
Their cosy seats you'll sit on as you do you services :3
Wooohoo the whole collection of polishes, don't know how many hundreds of bottles is that!!! :O
Okay, show off my nails again! I did glitter french tips with hard gel, plus acrylic ribbons and flowers for nail art! First time doing hard gel and acrylic nail art, must say I really love them! So shiny and pretty~
Last shot of my lovely nails!
Here is Jessie, the shop owner! She's very friendly and did my nails for me personally, so sweet of her!
Beauty recipe don't only do nails! They also provide beauty services in almost all aspects of beauty! Here are some of their services that they are having promotions for currently!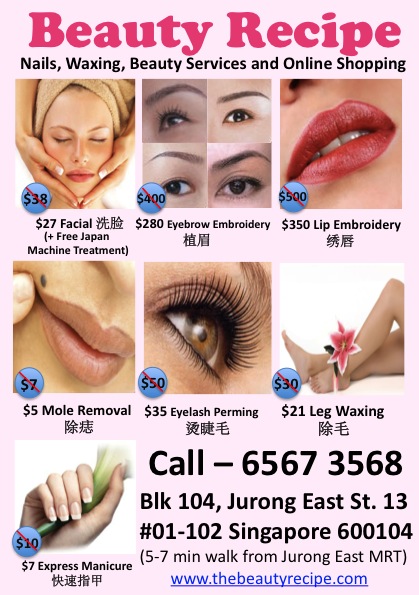 If you wanna get your nails done like mine, here's a few promotions that you can't miss!
$28 for classic manicure and pedicure
or
$20 for gelish manicure for first time customers
or
Get 30% off any services!
Seriously, you can't find any gelish manicure services anywhere for $20 only! Such a steal! The only other way apart from visiting Beauty Recipe is to buy deals from those deal sites and get some ulu brand of gelish polish applied on your nails, I swear.
Do call in early to fix and appointment at
65673568
They're located at
Block 104 Jurong East St. 13 #01-102
, one bus stop or 5 mins walk away from jurong east mrt station!
You can also visit their site at
www.thebeautyrecipe.com
for more info!