I was sent these 2 products by Metholatum to try out last week!
Before I try them out~~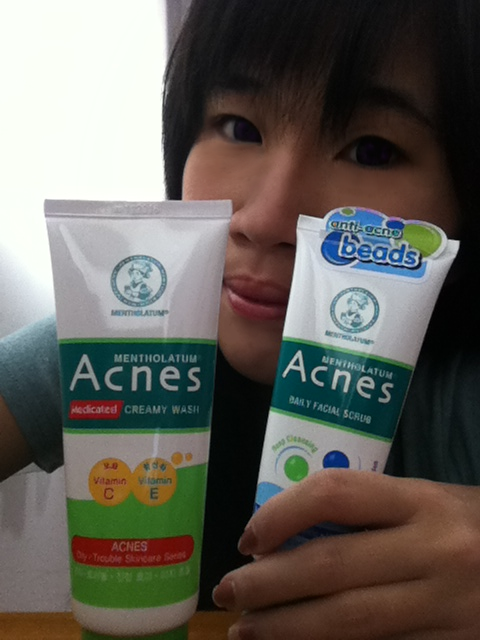 Left: Mentholatum Acnes Facial Scrub
Right: Mentholatum Acnes Creamy Wash
They're promoting their new product, which is the acnes scrub! The creamy wash have been around for some time and selling well! :D Here are more details on the products!
For the Acnes Creamy Wash.. 
What it does: Remove excess sebum, Anti Bacterial, Soothing, Deep Cleansing, Moisture Retention, Anti-oxidation.
 You get a creamy foam after lathering with water! Its pleasant on the face and I think it really works..... Despite the lack of sleep this week, I don't have any major breakouts so far! Actually I think many of you have already used it before and I don't really have to say anything about this! :)
The new scrub...!
I've tried this scrub myself, and to sum it up, its a pretty good scrub, especially with the blue beads which gives a menthol sensation! I've tried some scrubs before and this is the only one that contains the menthol sensation! Also, I'm kinda scared to scrub my face usually due to the coarse scrubbing beads, but this one no, its very gentle! :D The only thing to be careful of is to not scrub near your eyes. Not because its rough on the skin, but because the thinner skin around your eyes may not be able to withstand the menthol feeling..
Look at the 2 colored beads! (I took a lot of effort to take this photo okay, the beads are so difficult to capture in photo!!!)
------
Freebies time!
Like
Acnes (SG) FB page
to redeem a 3-step kit sample today!
Alternatively, you can purchase the Acnes 2-Beads Facial Scrub at $7.50 from Watsons, Guardian, major pharmacies and supermarkets!
Try it now! :)