Warning: Crazy long post ahead!
I can't believe 2012 is over just like that, its too damn fast!!! To be honest I don't really have much memory of many things that happened till I went to my blog archive. This is another reason why I like to blog, it helps me to remember all the good memories! :)
& OMG I realised my make up and photo-editing skills improved a lot after typing this post and digging for old photos!! Pardon my uglier photos at the start of the year.
~~~
January
I can remember super intensive cheerlead training for HOOC the whole month! (OMG its gonna be the same this month too)
CNY was in January, had reunion dinner at Marina Bay Sands at
Todai
!! First time eating at MBS!!
January is also my
birthday
month! Remembered celebrating (mini one la) with the princesses, guides, my family and William! Ate super a lot for my birthday... Oh, and it is the first time I went into and ate at mandarin gallery!!! I remember eating prawn katsu and it tasted like the fruit cempedak LOL
February
First time participating in a
cheerleading competition
! The stress was like OMFG! Plus I sprained my ankle one week before the actual competition, I thought I can't make it for the competition already, but end up I still did it with the help with an ankle guard and chinese medicine from William! Here's a video of the performance! (I was the one in black ankle guard :/ )
Hall 4 2012 HOOC Cheerleading
February is also when we officially got together!! :)
11 Feb
to be exact! Omg I look so O_O then hahaha.
There's also valentine's day this month! I remembered the boy cut/wrapped the whole bouquet of 24 roses himself!!! I sneaked into his room to do his notice board but surprise failed, he came back to the room when I was working on the boared :O (V'day posts -
1
2
)
My art
March
This month was a pretty happy month, movie + eating + painting my nails haha! Going new places with the boy too :)
Got our couple tees! :D
W brought me to
ikea
 for our monthsary! :3
And he brought me to
strictly pancakes
 for a normal date! yumyum.
April
I remember faking a tattoo with eyeliner for April Fools' Day in
blog post
and it was super successful LOL!!! Loads of people went to read that post and my dad even smsed me about it hahahahaha.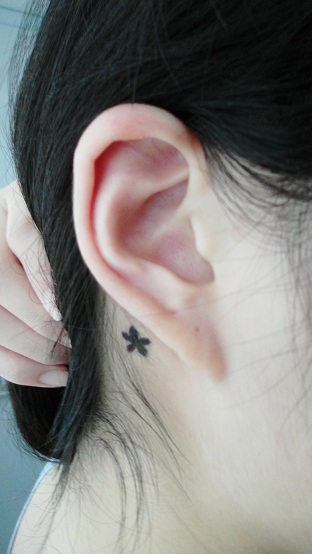 Blogged about
Freshkon Color Fusion, Glittering Blue from the Sparklers series
and my blog got featured on their FB page!
I also did a free ad for some blogshop. Opps la, I was too noob, but my blog wasn't that popular then anyway. Shall not mention what shop. But since then advertisers started approaching me hehe..
It was also the month of exams so yeah, nothing much happened...
Made quite a big decision for my three month long school holidays - taking up Minor in Entrepreneurship with boyf. Till date I still don't know if it was a right choice? Most likely yes, but the process to get the minor is really tedious T_T
May
This is the month when I went into comercial blogging. I started to do sponsored posts!!!!! I was like OMFG when I looked at May's archive lol. Some of the more special sponsored posts are
candyplay
(I did a video with bf but its was kind of draggy haha),
The Skin Shop
(I did a barefaced video omg) and
duffy beau
(it was my first ever post for them, duffy beau is my long term lens sponsor!!).
Also ate at
Ippudo
after reading about them online. Best ramen I've ever had in Singapore!!!!
Went to kiap softtoys on our third monthsary and we got 2 new babies from prize stage!!! First time I see the whole process of the softtoys dropping to the hole from the claw! :)
And I mentioned that I decided to take up Minor in Entrepreneurship(MIE) right? We had to go through a 3 day
OBS camp
for it. I swear it was hell for me, I hate camps and outdoors and physical stuff and getting dirty and sweaty. Loads of shocks (and sudden instructions), hours of trekking and kayaking. I blogged about it but it was a long ass whiny post, so read it only if you are free lol.
Lessons for MIE started. It was super packed and there are so many projects that we had to do! Slept quite little then.....
June
Had a week or two more of lessons for
MIE
, was really half dead then. Weeks of rushing for different projects X_X
I also made a huge decision to get my
hair dip-dyed
(it was sponsored by vintage studio)! I had black hair for like 20 years of my life and I had never ever dyed it to even dark brown, but I took the plunge to bleach it and get blonde. I liked it then, but currently I feel like having black hair again :X Anyway, that's not the end to my hair's fate, read on!
July
I joined
MyFatPocket
officially!!!!!!! My blog URL became http://www.myfatpocket.com/eijgniy which is my current URL! Since I moved my blog, I also took the chance to change my blog banner which I still think is very cool because I'm the alphabet "Y" in the banner haha!
Continued to have many sponsored posts such as contact lenses, beauty products and blogshops! Really admire myself for being able to do so many ads/sponsored posts in a month, guess that was really holidays for me ahah.
Okay, I actually worked for like 4 days, I didn't just slack my whole holidays away! I had a
flyer job
that paid me $10/hour haha, it was also the first time I took up a flyer giving job and it was indeed physically and psychologically demanding!
And oh, I have to mention this! I ate the
worst buffet ever in Singapore
with Pam at Hyang-To-Gol's Korean Charcoal BBQ!!!!!! Felt damn cheated. They're located in Resort World Sentosa and selling deals at $33 (which is still quite expensive) and the food sucks! I guess their restaurant is not doing well, hence they're getting (dumb) customers via deals. Don't ever eat there, trust me.
August
Went on a KL trip with the princesses (my course mates!)
Part I
and
Part II
here. When I looked at those 2 posts, I'm missing KL so much!! Cheap food and cheap shopping, omggggg. I need to go KL again this year!!!! waha :P
Had Hall's Freshman Orientation Camp too. It was 5-6 days long, extremely physically and mentally taxing. I KO-ed after ending up with fever on the second last night. It was a bad experience, working with people that I totally cannot get along with and yet having to put up a fake front :(
It was also our 6th monthsary and we went
swimming
at Jurong East Swimming Complex.
I also blogged a
step-by-step tutorial on how to get bigger eyes
! This is super duper useful I swear by it!
Myfatpocket also started doing
luxury bag giveaway
! They started off with this limited edition Prada bag (only 3 in the world) giveaway. Crazy no?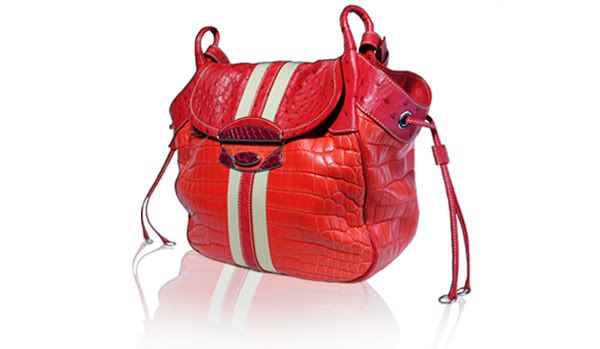 September
September was full of beauty reviews, I was super hardworking that month! (Don't know why I so free???)
I attended my first 3 blogger events all back to back! Friday night, Saturday morning and  Saturday afternoon -
Bellabox
,
K-palette
and
Robin Niu Beauty Talkshow
!
Met some of MFP's bloggers like Theresa, Joyce, Shiella and other bloggers (Jocelyn)  at Bellabox's event in real life!
Remembered that I went to K-palette's event alone and I awkwardly went to talk to 
Katelyn and Velynn trying to make friends haha! And luckily I did, am still chatting with Katelyn every other day now! :) Also thanks to this event, I won a polaroid camera for myself later on!
This month, Myfatpocket decided to do a
luxury bag giveaway
again
... or rather luxury bags! They had 6 luxury bags for their giveaway, crazy much!!! Unbelievable, but yes, they did it.
October
This month had quite a lot of beauty reviews too!
Owned my first
polaroid camera
as I won first prize in a photo competition held by K-palette!! I even blinged it a little hehe!
Got sponsored by Hada Labo and fell in love with their arbutin whitening lotion! Here's the
review
!
Was also invited to do a
guest post
for Bellabox's magazine and I wrote about the many different uses of the Nuxe Huile Prodigieuse multi-usage dry oil!
November
It was the examination month so I didn't blog as much as the previous months..
Shunji Matsuo at 313 became my official hair sponsor and I had super pretty
berry ombre
hair in November!!! Also went to
refresh
the color once! Since then, my hair received countless compliments and I'm really glad to have them to take care of my hair!!!
Finally got to eat at
Once Upon a Rosti
with the boyf after pestering him to bring me there!
December
A pretty busy month for me too! Was still having exams in the first week! And the following weeks were packed with meetings and trainings... Quite a happening month but I was really too busy and I'm lagging behind a lot in the blogosphere :/
Got my ombre colors changed at Shunji Matsuo 313 and I did a 
flaming red ombre
!!!
Went to Genting for a getaway with W!!! :) I was really busy so I only blogged about
day 1
, there's still day 2/3 which I've yet to blog about!
We tried fish spa for the first time at genting! It was super ticklish and he was super hilarious! His face was epic in all the photos hahaha!!!
Went to Hello Kitty Town in Malaysia with my girlfriends! Haven't got to blog about this yet too, but here's my favourite photo in the whole trip! All 8 of us in the hello kitty bathtub hehe! Will blog about it another time too!
Katelyn brought me along to attend Burberry's Beauty Bloggers counter party which is also the second time I met her in real life haha! Went to shop together and had supper after that! I have yet to blog about this event too opps :X But here's a photo of us taken that day which I koped from her blog!
Changed my hair color again in late December, and Sally did an awesome job with my hair! Its not the normal ombre, read
here
to find out! And its unicorn colors omggggg!
I also started a blogshop which I don't really have the time to even market it, and its called
Whatthefash
, WTF in short haha! Please help to like
WTF's facebook page
if you're free! Here are some of the few items which I'm selling! Everything is below $20 currently, really affordable ok?????
Last but not least,
I got my first ever Prada bag
!!! 
Omgomgomgomgomg.
Never have I imagined that I'd own an authentic Prada bag at the age of 20. I bet you're now thinking, "Are you freaking sure?" "Is it a fake one?" and whatnots... But..... Its true!!
Its like an early and gigantic christmas present from Myfatpocket! (I can't thank them enough!!!) It was soooo heavy and luckily boyf was with me to help me lug it home... I got my Prada Doctors Bag in purple, and there's only 60 of this in the world.. Will blog about it another day when the photos are ready, meanwhile, please make do with my instagram photo of the bag which actually does no justice to it!
~~~
And tadah, my 2012 ended!
2012 have been quite a great year on the whole with my family, William and friends! I know I'm always ranting on and on about my life being sucky and stuff, but after doing this post and looking back, I actually feel that my life is somewhat awesome. Must appreciate what I've got! :)
I'm also very happy with the progress of my blog over 2012! From joining Myfatpocket as a blogger, working with all the lovely sponsors and brands that were so ever generous and forgiving when I was too busy to blog, as well as knowing all the pretty and friendly blogger friends that I've made. I've never expected myself to go so far in commercial blogging when I started an innocent online diary years ago, (and I'm still damn far from all the celebrity bloggers like xiaxue, etc), but I am really glad about where I am today, and I will continue to work hard! (Although I owe quite a lot of blog posts now thanks to my horrible schedule... Sorryyyyy)
It has been a week into 2013 already and I've just finish looking back at my 2012. Lag much, I know :( Will do up my new year resolutions soon, better late than never right?
Anyway, have a great year people!