Hello hello hello any fans of Hello Kitty?
Good news, they're coming back to Singapore again!!
And this time round, they're cuter than ever :)
I remember when I was only 8 in year 2000, there were crazy long queues at Mcdonald's because it was the first hello kitty plushie launch! The next launch was last year where I got 2 of the Grimace Kitty because it is just too cute!!
And I can't believe I can haz two hello kitty this year even before it is launched in stores!! #perksofbeingablogger
Had a wonderful night at the Mcdonald's Hello Kitty Fairytale Party, everything was so cute, even the food presentation! And there were kids coming to our "private room" to ask for baloons hahaha..
So I randomly sat down at a seat when I got there, and look what I've got in front of me! My kitty in a box, kitty geek specs, mango pineapple smoothie in a cute glass bottle with a pink striped straw and a pink tissue..
And this is how I met my lion kitty! I randomly sat down in front of it :)
Initially, there were only three kinds of kitty at our table! Wizard of oz (lion), the frog princess (frog) and little red riding hood... Later on, there are another 3 more, so there will be 6 different types of kitties in total!
The boxes are super cute, you can flip open the cover to peek at the kitties, or take them out from the side of course!
And when three of us bloggers took out our 3 different kitties...
Everyone wants to take photos of them!
The Mcdonald's staff came to introduce us to the hello kitties and the new food items that would be up on their menu soon.. Yes yes I'll show you the new hello kitties now~ (Sorry but the photos are not very clear for this 3..)
The ugly duckling! It is not ugly at all, the kitty is yellow in color, and most of us bloggers in the room like this the most!
The singing bone! I got this I got this haha! It is black in color, and they say this kitty is limited edition! :D
Lastly, the Mcdelivery witch! Do take note that you can only get this kitty when you order Mcdonald's via Mcdelivery, you can't get this from the stores..
We also have photobooth and it was really cute!! Loads of cute props for us to use but I only took 2 photos~~
With
Elgena
, a new friend I made that day!
With
Sherie
, Elgena and
Jiahui
 !
When we got tired of taking photos and went back to our seats, we got a new surprise.. Foodieee hahaha.. I was famished and really glad to see food!
Curry shaker fries!! Almost everybody I know love Mcdonald's curry sauce, I'm sure you all will love this fries too, it is sooo nice that I finished the whole plate myself until I was exploding~
New sauces to go with Mcnuggets - honey mustard and wasabi flavoured sauce!
There were also some other activities and I got the singing bone kitty!!
It was an awesome girly night at Mcdonald's with all the bloggers! (Photo stolen from Sherie)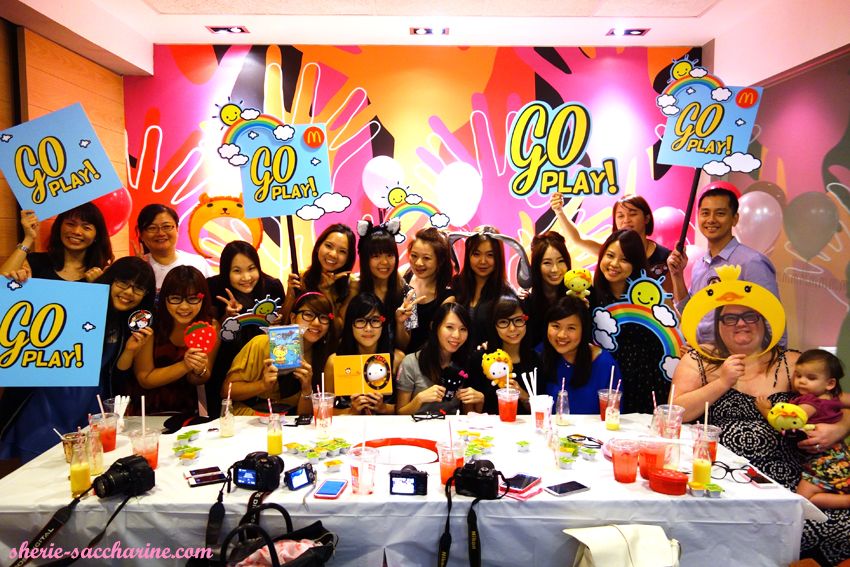 Those cutie kitty will be available at Mcdonald's from 30 May onwards!
Get yours now! :D