Beauty is in the eye of the beholder, the adage goes. But in Gangnam, beauty is in the hands of her plastic surgeons and with a setting amidst upmarket shopping areas, flashing billboards images of women plastic surgery of before and after, it's never more apt as it's about style.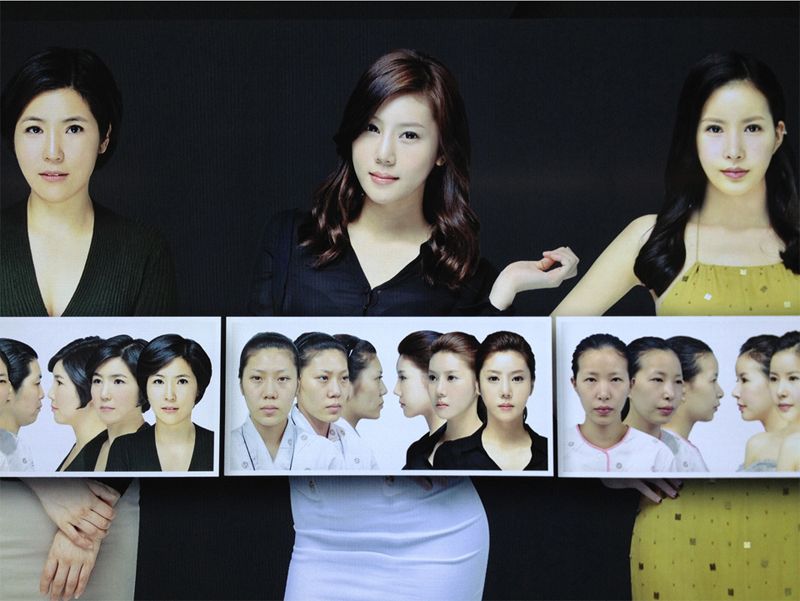 According to Korean mythology, Hwanung transformed a bear into a woman and made her his wife. A child by the name of Dangun was born out of this union and later became the founder of Gojosen, Korea's first kingdom.
Legends and Mythologies have always enthralled and captured the imagination. Tales of the beautiful and the bold from Cleopatra to Helen of Troy have inspired the quest for the elixir of life and the fountain of youth via traditional or modern medicine means.
The International Society of Aesthetic Plastic Surgeons performed more treatments per person in South Korea than in any other country, making Korea arguably the kingdom of plastic surgery.
One in five of South Korean women readily admit to have gone under the knife and in Seoul itself, 20 percent of women between the ages of 19 and 49 have had plastic surgery done.
Whatever the reasons and the driving factor behind this pursuit of enhanced beauty may be subjective but one thing's for sure, it's boosting the nation's economy and image on the global front.
Korea's Gangnam District has been compared to cities like Beverly Hills, California. Known for its heavy concentration of wealth and high standard living, the affluent southern district is also the hub for medical tourism with surging increase in the number of yearly visitors.
As part of the engine for Korea's economic growth, Gangnam District was given an award by the Ministry of Health and Welfare for its excellence in medical tourism is set to propel itself as the aesthetics centre in Asia and possibly beyond.
The crew of Aesthetics Hub will be in the motherland of plastic surgery to video document and bring you the scoops of why, how, what and where of plastic surgery and aesthetics procedures.
As Korean music superstar PSY would say, "Oppa Gangnam Style!"