I don't usually blog about movies, but today, I have a super cute movie to recommend you people! BF brought me to watch that show earlier on this week, or rather I pestered him to bring me, and I loved it so much! I think he loved it too hehe.
Yeap, there is a part 1 to this movie a few years ago, I can't really remember the plot but you don't have to know part 1 to watch this part 2! Part 2 is so much cuter please! The only thing I recall about part 1 was that this guy created a machine that makes food with water, and somehow the food became super sized or something.
Honestly, the plot for part 2 was okay-ish only, the type that will be suitable for kids. Watch this movie for the cuteness, if you're looking for plot then I guess this one is not for you. No spoilers, but you can view the sypnosis on any movie website anyway..
The foodimals are super cute, a combination of food and animals, and amazingly their names make sense. The people behind the movie are too creactive haha! Some of them are not hybrids, but these food are alive too, the strawberry, pickles, marshmallow, and so on... Ahh I love them hehe! My favourite foodimals are the strawberry, marshmallow, blueberry, pickles and leech!
Okay, I am just gonna spam foodimals now.... It is gonna be a little messy below, all the pictures are of different sizes as I obtained them from google!
Strawberry! This is like the smartest food in the movie, super cute!!!! I was squealing whenever I see it lol!!!
Marshmallows~
Cute!!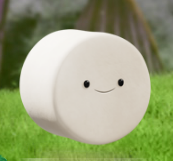 The one on the right is Cantalope, combination of Cantaloupe and Antelope!
Strawberry, tomato, blueberry!
The pickles... And they love sardines, super cute!
Butterfrog and mosquitoast..
The screaming leech, super cute it was screaming like forever LOL!
Wildebeet, I'm not too sure what is this, but still cute..
Su-sheep haha!!!!
Watermelophant!
Running bananas hahahha, bananostrich!
Flamango haha!!!!
Hippotatomus, tacodile, fruitcockatiel, subwhale..
Flamango, cantalope, wildebeet, crabcake..
Hippotatomus, cantelope, shrimpanzee, crabcake, meatbalrus, blueberry..
Buffaloaf, apple piethon, cheespider, bananostrich, crabcake, barry, cucumbirdy, eggplanatee, fruit cockatiel, flamango, hippotatomus..
Shrimpanzee, meatbalrus strawberries, mosquitoast, susheep, watermelophant, sweet pickel and pearl (onion lol), wild scallion, tacodile, wildebeet..
Pickle, fruit cockatiel, meatbalrus, tacodile, shrimpanzee, watermelophant, mosquitoast, kiwi bird..
Been gushing over them as I did this blog post that I forgot I was supposed to eat my lunch! Ending off with the strawberry video now!
Go watch the movie okay, it really made our day! We were like super happy after this lol :D