Went to ETUDE HOUSE at VivoCity for their bloggers' event with T a couple of weekends back. Was very happy to attend my favourite brand's event!~ There was a Mascara Mission "race" earlier on that day actually, but we went straight to their last station at VivoCity as we are not that fit opps. Don't worry, I will be doing up a separate review on their latest Lash Perm Curl Fix Mascara, so you girls won't be missing out! :)
VivoCity outlet is one of their newest outlet, and also one of the prettiest outlets, not forgetting their
flagship store at Wisma Atria
. Can I bring one of these cushions home?? So cute!!! *screams*
T was my camera woman that day because my camera died on me, boo.. Only took some photos with my phone, other photos are from T and MFP's photographer!
Look at these limited edition DIY cushions!! Saw them on ETUDE HOUSE facebook page some time ago, and we got to decorate our own cushions that day.. I actually love doing art & craft... My favourite Precious Mineral Any Cushion + cute decoden = super happy me!! :D
There were 2 types of decoden sets to choose from - Flower Belle on the left and Eat, Play, Love on the right. We took one set each!
T's Flower Belle set comes with lots of flowers and pearls, a super girly set!
My Eat, Play, Love set which is super duper cute hehe, i comes with lots of candy and random cute stuffs.. I also stole some pearls from T since she has a lot!
Here's my completed decoden cushion, I tried to put on as many pieces of cabochons as possible..
Love my DIY Any Cushion! I feel so happy every time I use this~
We also received a very generous goodie bag from ETUDE HOUSE, filled with their latest products for 2015 Fall - the
Bling Me Prism
collection - which is a collaboration with Korean accessories brand, High Cheeks! The
Bling Me Prism Eyes
is a water-base eye shadow that comes in 5 shimmery and girly shades. I love all these colors which are pretty subtle when applied, they totally give off the korean clean make up look when applied!
The
Bling Me Prism Colour in Liquid Lips
actually have the pigmentation of a lipstick but the texture of lip gloss! Don't be deceived by its appearance, I also got fooled into thinking that they are lip sticks initially, opps.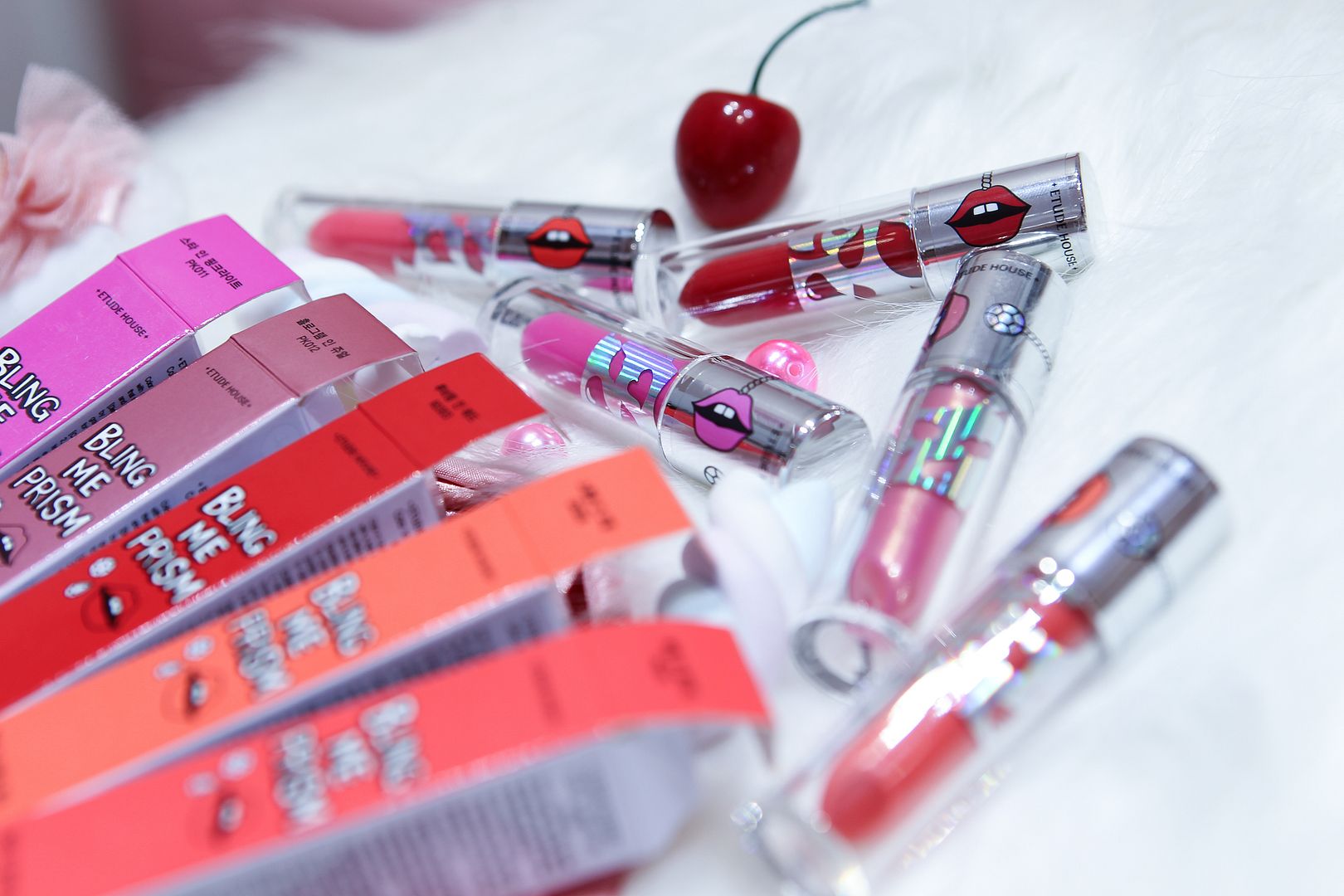 ETUDE HOUSE
Lashperm Curlfix Mascara
is their latest mascara, it comes with new forumla and new technology, both of which are pretty amazing. I have tried it for a few times and it really exceeded my expectations, look out for my review for this, shall not reveal too much for now!
Look out for my upcoming ETUDE HOUSE product reviews, I can't wait to share them hehe! Thank you ETUDE HOUSE for having me!! :D Connect with ETUDE HOUSE Website:
www.etude.sg
Facebook:
www.facebook.com/etude.sing
Instagram:
@ETUDEHOUSESINGAPORE
ETUDE HOUSE
Singapore Vivocity #B1-03