If you don't know, one of our hobby is to explore cafes and new eateries! So a mini update about somewhere that we've explored recently..
Pssst, I finally got a new phone so I can finally take more proper photos to update my blog and instagram more. I've just gotten my 7th Samsung phone ever - Samsung Galaxy S7 in pink gold - last month! :) :) Decided to visit
Ah Bong's Italian
last Sunday because I am a pasta lover and I have been following them on instagram for quite some time.. They are pretty cool in a way because their menu vary everyday and you can check their menu on instagram before heading down if you wish... Oh, I found out that they have 2 outlets, and the new outlet is pretty convenient for me, it is located near Bugis! The Bugis outlet is open daily while the other outlet (at Tiong Bahru I think?) is closed on Sundays.. Since it was a Sunday (and even if it was not a Sunday haha), we headed down to the outlet at Bugis aka Tan Quee Lan street! It is actually less than 5 mins away from Bugis MRT Downtown line's exit, but we exited at Bugis Junction so we took a little more time to find our way.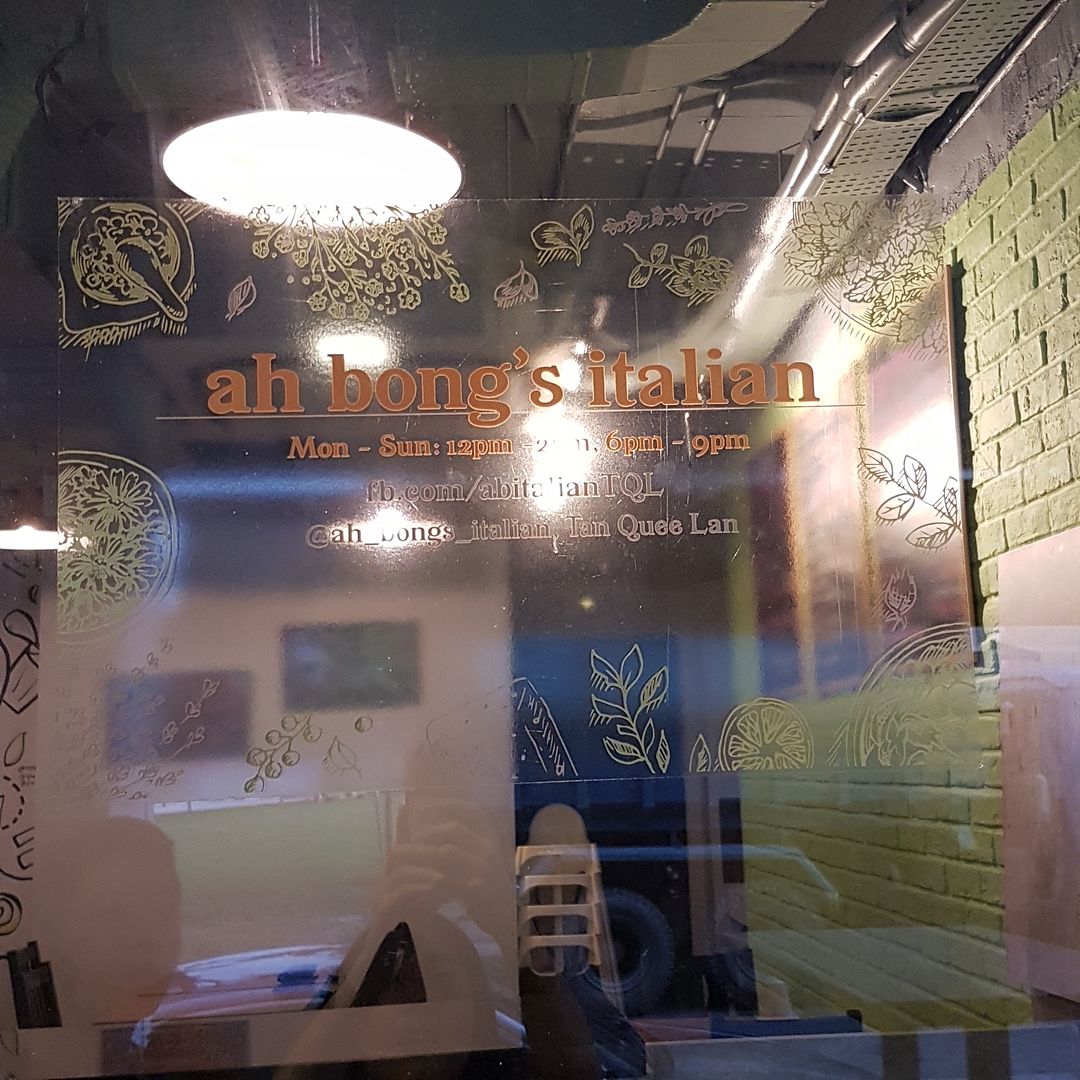 I expected a crowd when I arrived at 12.30pm but there were only two groups of people there... (More groups of people came in as I was having my food, maybe people wake up later on Sundays...)The staff were pretty friendly, they will try to allocate you a seat and you can place your order and make payment at the counter when you have decided on the food. This was the menu for the day.. There were some other sides like chicken wings, truffle fries, baked eggs and creme brulee if I didn't remember wrongly.. To be honest, I was a little disappointed because I was attracted to their truffle and cream based pasta which were on the menu for other days. It is okay, I love prawns and crab too..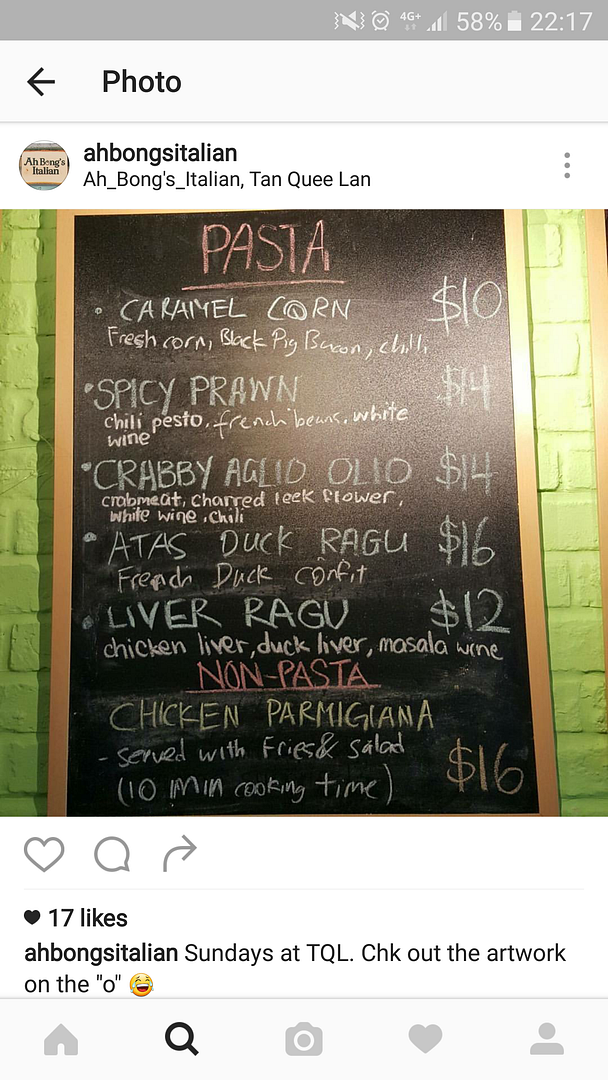 So we ordered both spicy prawn and crabby aglio olio, as well as duck fat truffle fries and we got a free canned drink. As we can't really take spicy food, we asked for both pastas to be non-spicy and they accomodated to our request readily. The food took quite some time to be ready, over 10 minutes I think, despite the fact that only a couple was waiting for their food before us.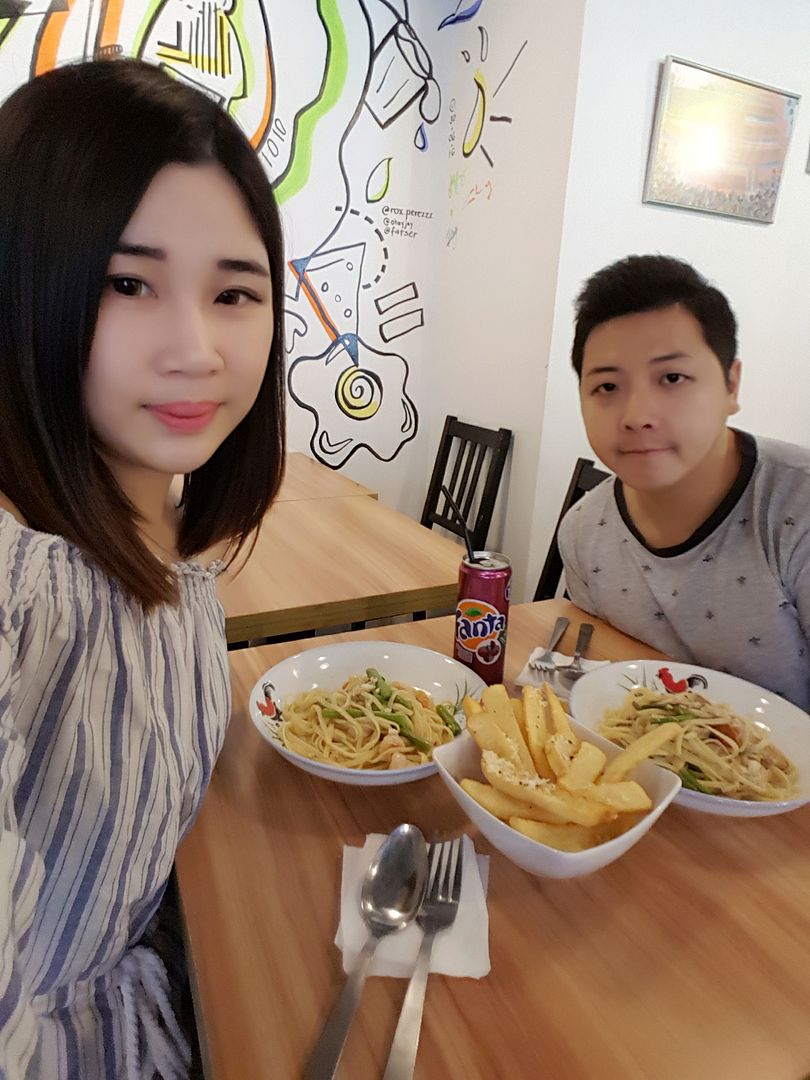 Close up of the food... Oh ya, the pastas are served in the traditional chicken plates, which are kind of cute haha... Personally, I find that this gives off a very homely feel!
Duck fat truffle fries:
I can't taste the 'duck fat' so it tasted pretty much like any other french fries.. (I believe we are not supposed to taste any ducky-ness right, if not that might be weird...) I could taste a hint of truffle but it was not too strong, would prefer it to have more truffle flavour...
Spicy prawn (non-spicy version):
This non-spicy version tasted pretty plain, I guess it is because of my 'special request' so I can't judge this dish well. The prawns tasted quite fresh and they weren't stingy with the seafood, yay for that!
Crabby aglio olio (non-spicy version):
This tasted pretty plain as well, just like the above but with a hint of garlic. They used fresh crab (not crabsticks) and were pretty generous with the crab, double yay! If you look closely, you can see that there is a full crab leg inside FYI..
Overall, the food at ABT was not too bad but I had very high expectations after reading all the good reviews online so I was a teeny bit disappointed. To be fair, the food might have tasted plain since we asked for the mains to be non-spicy.. Nevertheless, I will be heading back again and I will check the menu before heading down next time! I am targetting the truffle dishes or the mac and cheese heh heh..
AH BONG'S ITALIAN
Instagram : @ahbongsitalian 103 beach road, #01-02